Our Technology
Payments with your brand front and centre
VeryPay Mobile Applications
VeryPay mobile apps allow customers and merchants to access its private payment system.
The customer app allows for multiple payment cards or wearable devices to be linked to a user's e-wallet. Contactless transactions can then take place in any merchant enabled store.
The merchant app turns a smartphone into a payment terminal, allowing customers to make purchases, or deposit or withdraw cash from any VeryPay enabled merchant.
VeryPay Security and Risk Management
VeryPay is not a financial institution. It does not hold user payment data or have access to customer and merchant funds.




Built-in User Security Controls
Full Admin Back-Office Controls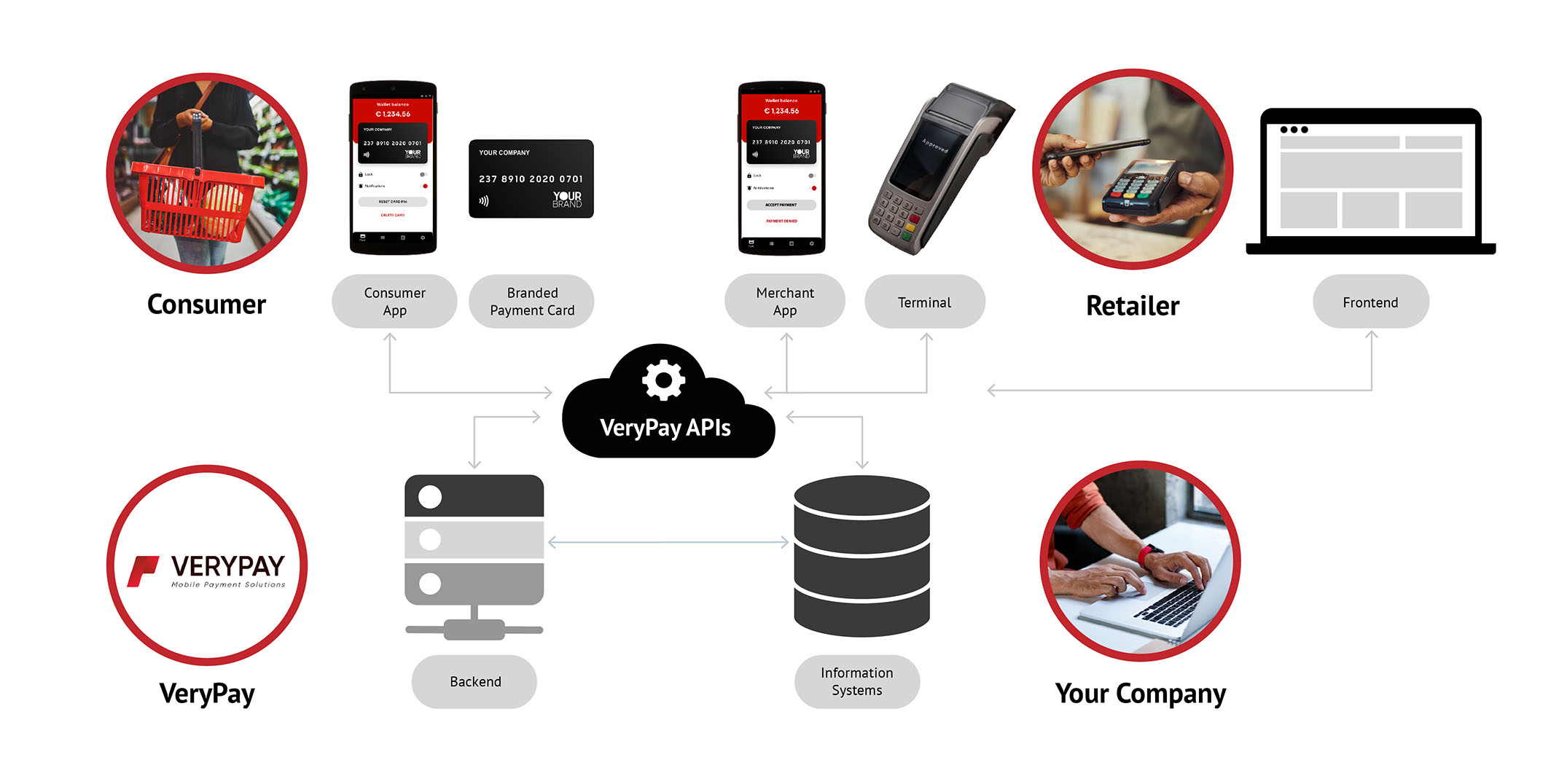 VeryPay Mobile Payment App for Merchants
Approved merchants within your network can download an Android application to run on their smartphone. The application can be customised with your own company design and published on the Google Play Store, to transform any NFC enabled smartphone into a mobile payment acceptance terminal.
The VeryPay app can also run on any android POS system that has an NFC interface.
Merchants log into the mPOS app with their credentials. When authorized, the payment terminal and the merchant can transact between its wallet and the wallet of any authorised end user.
VeryPay Mobile Customer App
Our simple integration attaches a branded payment card or wearable payment device to an existing e-wallet. Think of it as a simple add-on that gives you extra features and functionality. Using our Family & Friends feature, multiple cards or wearable devices can be added to a single customer account, increasing the adoption and usage of your mobile money solution.
The VeryPay card utilises secure smart card technology to ensure the highest level of protection for payment transactions. This technology safeguards the exchange of data between the card reader, merchant application, user application and all integrated systems.
The app is used to add a new payment cards and wearables and link them to a user's e-wallet.
VeryPay Back-Office Administration
The VeryPay back-office administration platform allows the operator to assign roles and responsibilities to individuals or teams, to perform various operations. All customer and merchant data can be interrogated and controlled and bespoke reports can be produced, to give ultimate security and control.
Lock, unlock, add, or delete cards
Receive payment notifications for card transactions
Show payment history of the connected wallet/e-banking account
Review / update personal information
Enable e-invoice payments
Enable peer to peer transactions
Manage administrators and end-users
Manage & monitor transaction amounts and limits
Analyze data within a dashboard
Read, write, filter, and export data
Manage transactions, cards usage, system users and payment terminals